The plane landed and I heard the familiar, "Flight attendants prepare for arrival." It had been a long red-eye flight and the gentlemen seated next to me had been particularly zealous about telling me all about himself. I had listened during our intermittent conversation, but hadn't contributed much to the conversation. As we exited the plane he asked, "Now what is it that you do?" I smiled and said, "I'm a Performance Chiropractor™." It was the shortest version of an elevator speech on record and I had just coined a term that defined my life's work.
While a simple metaphor for leadership, Performance Chiropractor™ is actually an effective reminder. Simple adjustments can make big differences in individual, team or organization performance. With insightful questions and proper diagnostics, the majority of human performance issues can be resolved without need for any major intervention. The key is to ask the right questions and ensure that the learner(s) – individual, team or organization – is clear on what is expected of them. And, that they have the appropriate resources to complete the task.
Exemplary leaders, functioning as performance chiropractors, know when and how to make proper performance adjustments. The tools include objective observations, appropriate questions, proper diagnosis, clarity about what type of change is desired, meaningful coaching conversations, etc. And, when done properly and on a timely basis, these adjustments will significantly improve individual, team, and organizational performance. The most common and least effective among the tools is the hammer. Use it for nails, not on your people (i.e. stifling innovation which is the application of creativity.)
Beware the carpenter who carries an impressive set of tools, but lacks experience and expertise to use them effectively. In the early days of our country, carpenters built their own wooden toolboxes. They were designed to showcase their skills to possible employers, showing off their skillful use of woods, joints, drawers and tools. It didn't take long for someone to recognize a master craftsman. They simply looked at the tools themselves. If the chisels were sharp and the handles well worn, the experience was obvious.
I seldom question peoples' good intentions, but even the best of intentions sometimes fail to produce the best of possible outcomes. If you are considering the engagement of an executive coach, consultant or other external resource, do your homework. The best of the best, and most qualified, will have extensive hands-on experience, expertise and a record of producing results. This link provides guidelines for consideration and the selection process: WHO'S THE CLIENT IN THE COACHING RELATIONSHIP?
"If you think hiring a consultant is expensive, just wait until you've hired one that is incompetent." – Larry Fehd
Tips and Practical Applications:
Review the key components of the HPS Innovations Model™ (below). Will the approach you are considering to any human performance challenge produce a simple, substantive and sustainable outcome? Are you engaging the individual, team or organization in finding the best outcome or rather imposing your own?
As a Performance Chiropractor™ (and responsible leader) yourself, what adjustments are you avoiding at the present time? Are you avoiding a difficult conversation with your boss, peer or member of your team? Recognizing, affirming and inspiring the best in others is a hallmark of an exemplary leader. So is stepping up to have the difficult, but necessary, conversations.
"Begin with the end in mind." – Stephen R. Covey, author of The Seven Habits of Highly Effective People.
Summit the Pinnacle
of Human Potential™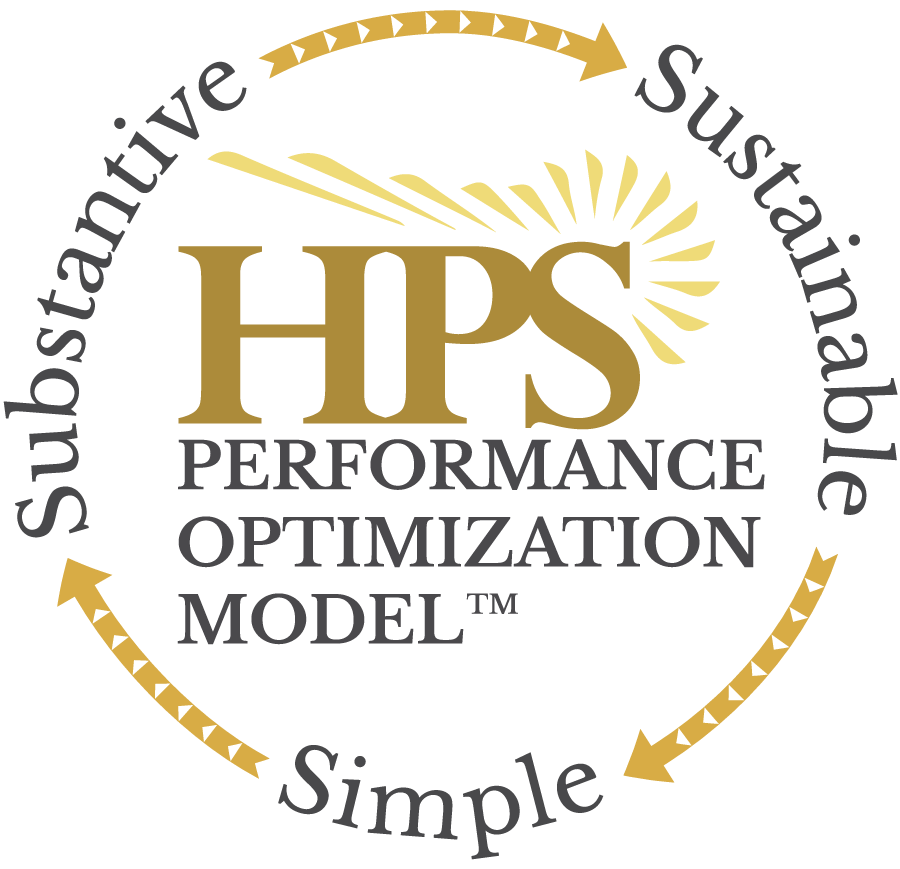 © Human Performance Strategies (HPS). All rights reserved.