Last month we focused on Commitments to 'What Matters Most'.  It provided a contrast between resolutions, which tend to be short-lived and ephemeral, and the power of enduring commitments.   Being clear on Commitments to 'What Matters Most' to you is essential to the pursuit of Exemplary Leadership™.  So, lace up your hiking boots, keep an eye toward the summit and let us begin the ascent.
Words are powerful yet subject to individual interpretation.  Included below are a few definitions to provide context and a framework to ensure understanding of the concept of Exemplary Leadership™.
Architect means someone who is a devisor, maker, or creator.  In the context of Exemplary Leadership™, it is a commitment to perform at your best and inspire the best in others.  The title of the HPS newsletter, The Architects of Human Potential™, serves as a powerful metaphor and reminder that we are all architects of human potential, including our own.
Art means the skill of performing a task, typically one acquired through practice.  What we practice, we tend to get good at and repeat. Van Gough's masterpiece, Starry Night, was a culmination of practice.  It was also inspired by emotion.  As we practice, we must consider not only the impact of our thoughts and actions, but our emotions as well.  "Let us not forget that the little emotions are the great captains of our lives and we obey them without realizing it."  Vincent Van Gough
Exemplary means serving as a desirable model; representing the best of its kind.  Exemplary Leadership™ transcends good or even great leadership.  It is the intersection of individual passion, being the best at what matters most, and achieving world-class results.   It gives rise to a bold new vision of leadership for an ascent beyond the good or great to world-class.
Paradigm means a typical example or pattern of something; a model: "a new paradigm of leadership."  A paradigm shift means: as a verb, to move or cause to move from one place to another; as a noun, a slight change in position, direction, or tendency; both meanings are integral to the pursuit of Exemplary Leadership™.
Leadership has no universally accepted definition.  Our definition is communicating an inspiring vision while ensuring a specific goal is accomplished to achieve and sustain a desired result.  Since leadership most often manifests in a behavioral context, one of the greatest challenges of leadership development is determining what specific behaviors will best serve to accomplish and sustain the desired result.  
McKinsey & Company recently published an article entitled, Decoding Leadership: What Really Matters.  The article included results of a recent survey and the outcomes were mind boggling to me:  "Over 90 percent of CEOs are currently planning to increase investment in leadership development because they view it as the single most important human-capital issue their organizations face."  Later, in the same article, "….only 43 percent of CEOs are confident that their training investments will bear fruit." So, if 90 percent are investing in what less than half have confidence will bear fruit or yield a reasonable return-on-investment, why make the investment in the first place?
We suggest that one of the reasons that most leadership development initiatives fail to accomplish (and sustain) the intended learning is that we are simply asking too much of the learner.  One-size-fits-all does not apply to leadership development and especially at C-level, senior executive and other upper management positions.  The good news is that there is a solution to the problem. We will begin exploring the solution with next week's edition of The Architects of Human Potential™. 
We encourage and invite your comments regarding this publication. Simply reply to this email or contact me directly at  lfehd@hp-strategies.com or (512) 415-0748. If you know of co-workers, colleagues or others who would also enjoy receiving The Architects of Human Potential™, please forward this issue and encourage them to subscribe via our website: www.hp-strategies.com
The Art of Exemplary Leadership
The Rewards of World-Class Results™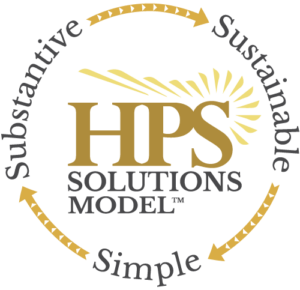 © Human Performance Strategies (HPS). All rights reserved.