I saw a post on LinkedIn recently about the role of a coach. Like most posts, including my own, there tends to be a marketing or self-promotion component. The author of this particular post had created a list of "I am, I will and I need" under the heading, My Role as Coach. I disagreed with most of the content. My challenge is not based on why I believe I am a better coach, but rather the lack of focus on the client. This post outlines my view on the process, outcomes and relationship between a coach and client.
The author of the post included some of the following in their My Role as Coach formal declarations: "I am not your cheerleader; I will hold up the mirror, I may call you out, etc." I could not disagree more with "not your cheerleader" as we cannot have enough of them in our lives. "Holding up the mirror" only provides a self-reflection and lacks the essential component and unique value of the coach's perspective. "May call you out" seems to convey judgment. I would suggest asking meaningful and insightful questions which contribute to the learner's discovery process.
There are three essential questions that must be answered at the beginning of the leadership development coaching process: 1) Where are we now? 2) Where are we going? 3) How will we get there and know it? Did you notice the use of the word "we" versus "I"? We implies a partnership, which is what the process is all about. The nature of the relationship is deeply personal and intimate. Both the coach and learner must be willing and have the capacity to go deep and beyond their comfort zone. A comfort zone is a beautiful place, but nothing ever grows there.
The following outlines my treble-role as an Advisor / Coach / Confidant: Advisor: deep subject expertise (in my case, leadership); Coach: offer unique perspective to achieve higher potential; Confidant: open, honest and safe dialogue about what is really going on. These roles are essential to the coaching process. Leadership development coaching is a process; not an event, quick-fix or flavor-of-the-month. A leadership development coach cannot provide any more value to their client than where they are themselves at the time (i.e., character/competence).
My Top 10 essentials for a successful leadership development coaching partnership:
Process:
Strengths/Vulnerabilities Inventory
Three Levels of Knowing Awareness
Identify Perceptions/Assumptions
Limitations/Barriers to Potential
The Neuroscience Implications
Building Emotional Intelligence
Identification of The ONE Thing
Pareto's 80/20 (Vital vs Trivial)
Personal GPS Navigation System
24/7; Life Happens Beyond 9-5
Outcomes:
Awareness/Acceptance/Action
Real-Time Stakeholder Check-Ins
Mechanisms for Ongoing Feedback
What You Will and You Won't Do
Milestones/Measures for GPS
Clarity/Focus on The ONE Thing
Emergence of Authentic Self
Self-Confidence/Self-Esteem
Personal/Professional Life Balance
Energy/Vitality/Discretionary Time 
"The greatest good you can do for another is not just share your riches, but reveal to them their own." – Benjamin Disraeli    
Benjamin Disraeli, 1st Earl of Beaconsfield, KG, PC, FRS (1804 –1881) was a British politician and writer, who twice served as Prime Minister.
Tips and Practical Applications: 
We cannot achieve our higher potential in isolation. Engaging an advisor/coach/confidant will accelerate your journey and help you emerge as a more effective leader, which will not only enhance your life in other ways, but also allow you to serve as a role model and exemplar for others.
The majority of change initiatives fail (i.e. 75% and upward). While this data reflects organization change initiatives, lest we forget that people make up organizations. So, if the majority are failing then it is reasonable to assume that communications, relationships, trust, collaboration must be contributing factors. Leadership and the willingness to take personal responsibility are at the heart of leading change. Engaging an advisor/coach/confidant will stack the odds of success in your favor.
Most buying decisions are made emotionally and then rationalized intellectually. Do your homework before engaging your advisor/coach/confidant. Rather than telling them what you are trying to accomplish with their engagement, ask them to explain their processes and outcomes and compare it to the summary that I listed above. If they are not addressing these Top 10 Processes and Outcomes, keep looking!
Last week's post, The Gift of Emergence, was more personal and revealing than my previous articles. While it reflected the truth, it also prompted some post-publication remorse, apprehension, and fear of how subscribers would respond.   Based on the response to the concept of emergence and affirmation of the article, I think it is safe to say that I am not alone in the quest for more open, authentic and meaningful connections. Here's to our continued "emergence" in life and the courage to push through the things that may be hindering or holding us back from achieving our higher potential.
Summit the Pinnacle
of Human Potential™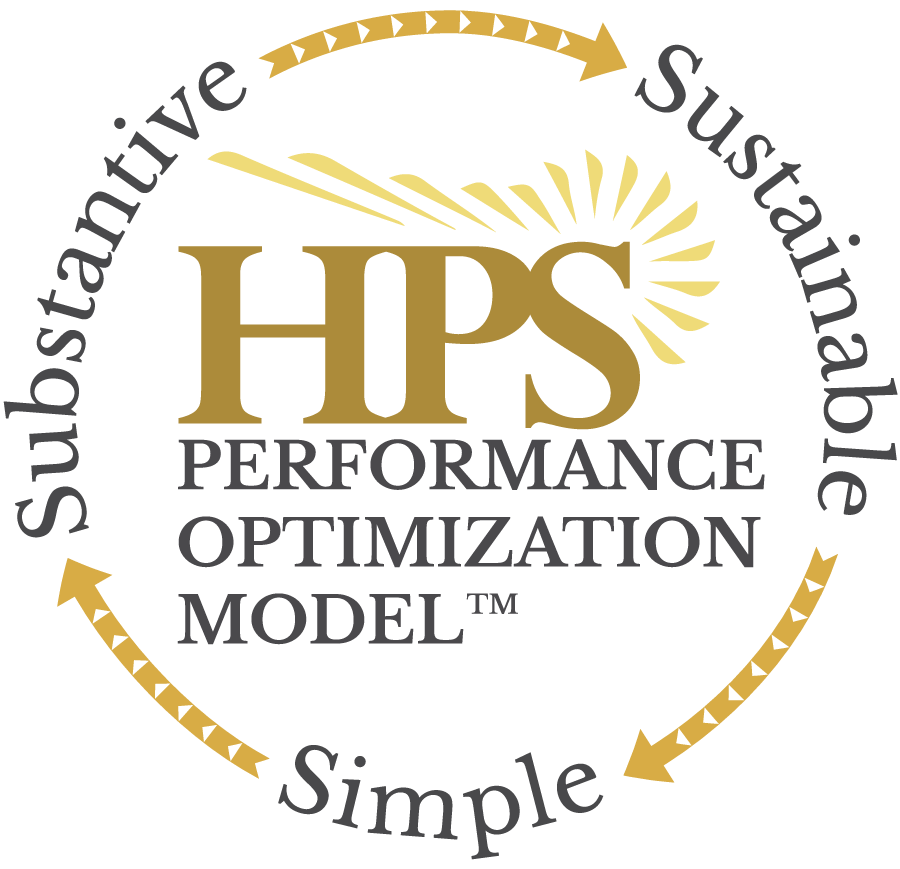 © Human Performance Strategies (HPS). All rights reserved.