We have all said or heard others say something similar, "That was a great conversation…"; "…was an inspiring conversation…"; "…was an enlightening conversation, etc. The operative word, "was", reflects past tense. While we cannot change the past, we can have more of these types of conversations in the future by following a few simple steps.
I recently spent time with a good friend and highly successful CEO. It was a weekday and just before the holidays. We sat in the quiet of my living room, enjoyed the ambience of the fireplace, and the company of my dogs. We shared some of our proudest accomplishments of the year as well as aspirations for the New Year. Soon after the holidays, we met for lunch and affirmed our recent day together.
He began our conversation with reference to my use of the term "meaningful conversations". The concept had obviously struck a deep chord and prompted new meaning for him. A meaning that had been experientially inspired by our meaningful conversation. An experience that inspired a desire for more meaningful conversations in his life. 
A meaningful conversation is one engaging both intellect and emotion. Intellect (IQ) and Emotion (EQ) or emotional intelligence quotient. Engaging IQ + EQ = 100% of Potential© for meaningful conversations. 
Being deliberate about our mindset and engagement in meaningful conversation is essential.  It requires a proactive commitment to "will" and not settling for "was". It also requires a commitment to be more fully present and engage at a much deeper level. 
Tips and Practical Applications:
Exemplary Leadership™ requires the continuous pursuit of meaningful conversations. Think in terms of quality vs quantity. Minor tweaks often lead to major improvements in communication. Having more meaningful conversations does not necessarily require more time. Rather a mindset and commitment to more active listening. And, engaging both IQ and EQ to foster more meaningful conversations.
Neuroscience confirms that our brains function in both deliberate and automatic modes. Deliberate for rationale thinking, reasoning, analytical functions, etc., and automatic for breathing, blinking, etc. Our deliberate brain cannot multi-task, which is why thinking about our response, as opposed to listening to what is being said, so significantly diminishes our capacity to listen and accurately process information. Being deliberate is the action part of the "will" and essential to meaningful conversations.
Take a quick inventory of your most significant conversations during the last several days. Identify whether the conversation was professional or personal in nature. How many did you experience as meaningful conversations? Consider what you could have done differently to transform those that truly mattered most to you into even more meaningful conversations. Take immediate action with the results of your inventory.
Ready to take your leadership, teams and organization performance to an exemplary-level?  We will work one-on-one with you to accelerate your ascent to Exemplary Leadership™ Learn More
About The HPS Solutions Model™: Simple (no more or less than required resources);Substantive (research-based, empirical evidence); Sustainable (enduring while avoiding flavor-of-the-month syndrome or a failed initiative).
The Art of Exemplary Leadership
The Rewards of World-Class Results™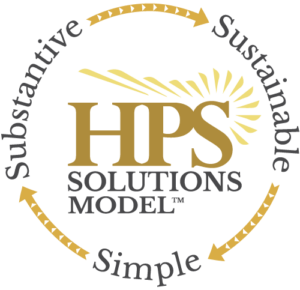 © Human Performance Strategies (HPS). All rights reserved.